The Fleet of Training Boats
3 OpenBic Sailing Dinghies
6 Pittwater Junior Dinghies
4 Manly Junior Dinghies
1 Heron Dinghy
3 Laser Sailboats with Standard Rig (sail can be reefed to 3/4 or 1/2 size)
1 Swiffie 10 Dinghy
1 Flying Ant Dinghy
1 Ellipse Dinghy
Program, Calendar and Dates
Please click
DRAFT 2019-20 Program
for a copy of the program in PDF.
Jump to DRAFT Program Table (below)

Description of the current program - see the Newsletter

The School Group Sailing Training runs in two sessions during Spring and Autumn each year. Young people enjoy the introduction to the joys of sailing in a closely supervised and safe environment

Volunteer Trainers
The Learn-to-Sail classes are run by very experienced volunteers who have vast experience with sailing and yachts.
Many of them have their own yachts and sail in local races. All volunteers have
Working With Children NSW Accreditation
.
The fees for classes at Callala Junior Sailing School are very low because of the use of volunteers for all training. Sponsorship is also very important for supporting the club and its fleets of training vessels.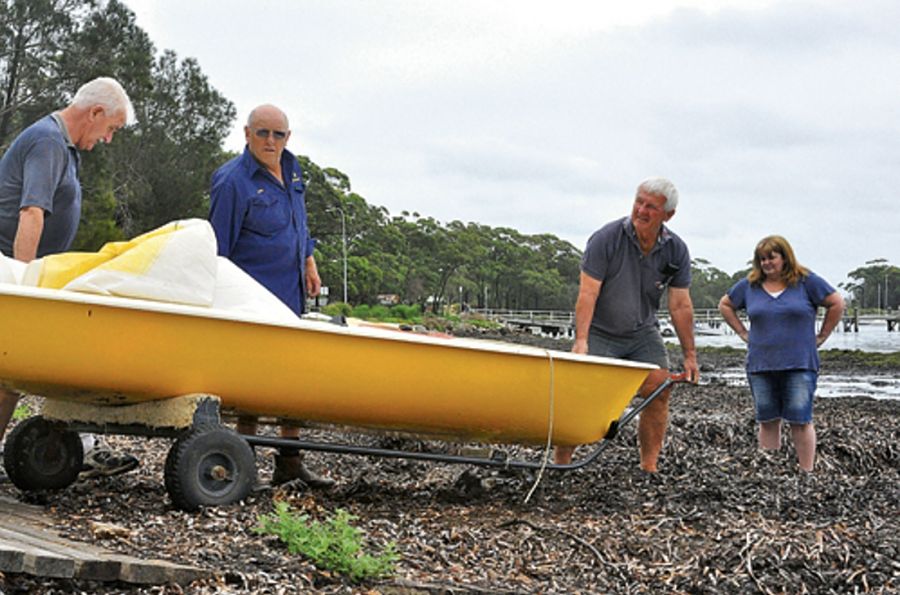 Callala Bay Junior Sailing Club volunteers Michael Kielly, Ron Clapham, Michael Chlopicki and Jennifer Lay battling with weed in 2010. Source: DANIEL PIOTROWSKI; South Coast Register.
Learn-to-Sail Program
The learn-to-sail program runs from Spring to summer with a break over the Christmas school holidays. There are groups for novices and more experienced students.
School Program
The school program is run in Spring and Summer, currently with 20 primary students from Callala Public School during each session.